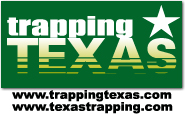 Site Coming Soon
This site will be designed for ALL Texas outdoorsmen and women to learn from and share information. Even if you're not from Texas, you'll probably find something you can learn here and apply anywhere!
A little taste of what this site will bring you
Trapping videos and pictures (educational)
Forums for discussions on trapping and hunting
Member pictures of catches and hunts
If you would like to be notified when this site is up and running, please enter your email address below. You WILL NOT receive spam or solicitations from this site. After the site is running, this email data base will be deleted and you can then sign up as a member (free). Members may receive emails from time to time strictly on site updates or when new information is posted.